You buy peace of mind with the GRABO Plus vacuum lifter
The GRABO Plus lifter is pre-installed with a battery and a vacuum gasket, the tool comes in a carrying case with a charger and an instruction manual. The Grabo accessory bag is easy to carry and store.
The set includes:
GRABO Plus – with built-in mechanical pressure gauge (model 2022)
Multi-plug charger
Foam gasket
Battery
Fabric carrying bag
User manual
GRABO Plus toolkit in a cloth bag
Price – 259€ +VAT
EAN-4897100720848

GRABO Plus toolkit in a container
Price – 319€ +VAT
EAN-4897100720022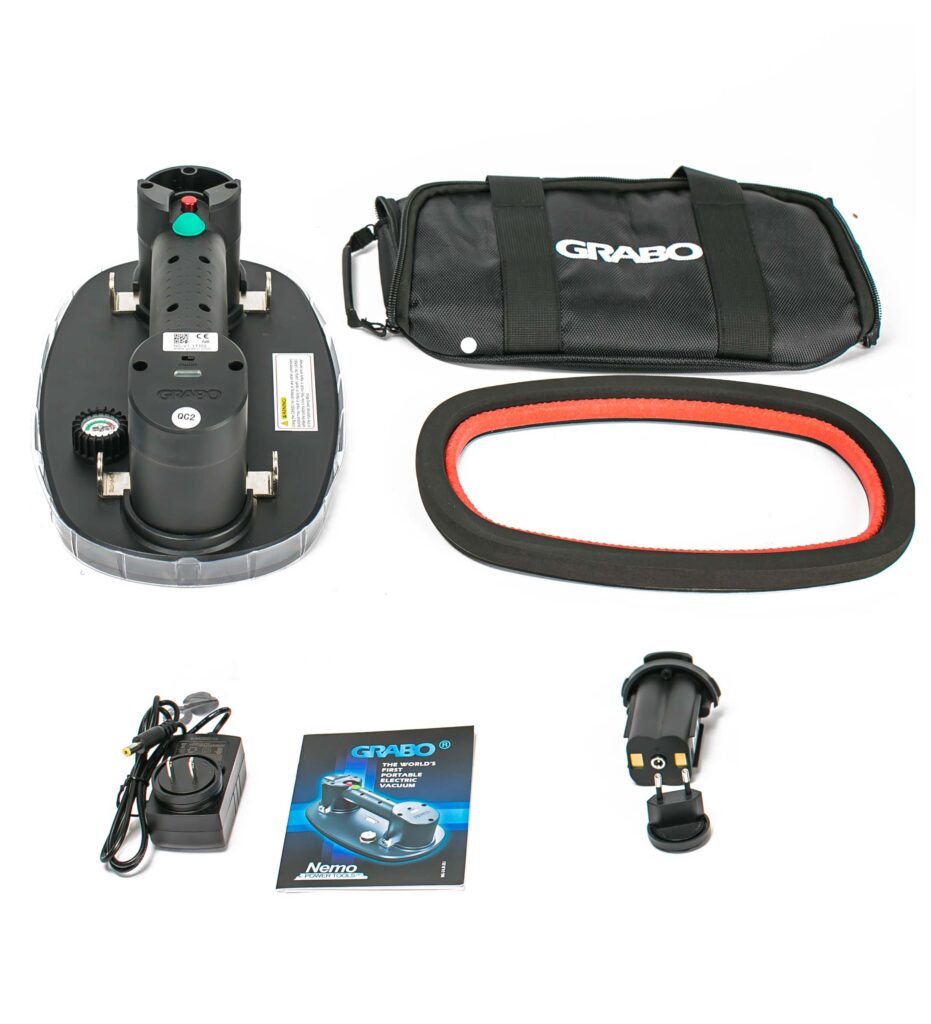 | | Perpendicular | Parallel |
| --- | --- | --- |
| Glass | 170kg (375Lbs) | 120kg (265Lbs) |
| Ceramic | 170kg (375Lbs) | 120kg (265Lbs) |
| Metal | 110kg (242Lbs) | 110kg (242Lbs) |
| Plastic | 100kg (220Lbs) | 100kg (220Lbs) |
| Wood | 100 kg (220Lbs) | 65kg (143Lbs) |
| Rough slate | 80kg (176Lbs) | 80kg (176Lbs) |
| Rough concrete | 80kg (176Lbs) | 80kg (176Lbs) |
| Drywall | 75kg (165Lbs) | 65kg (143Lbs) |
GRABO Plus can grip all kinds of materials.
Any industry that requires lifting and moving large or heavy objects will benefit from using the GRABO Plus lifter.
Movers can easily lift wooden furniture, comfortably move heavy paving stones, tiling is more efficient for tilers, window lifting for window fitters, etc.
What other material can be lifted with Grabo Plus?
Glass. GRABO is perfect for fitting windows.
Laminated cardboard.
All types of plastics.
Wood, both rough and smooth.
Metal. GRABO sees no challenge in lifting diamond plates or other non-uniform metals.
Tiles, smooth and patterned/uneven surfaces.
Concrete, pavers, granite and other less porous stones.
Drywall.
The activated vacuum pump creates strong suction and firmly attaches to any porous flat surface. This makes it easy to lift panels, boards or even objects made of different materials. For maximum lifting, the vacuum pump can be kept activated even while lifting or moving the load.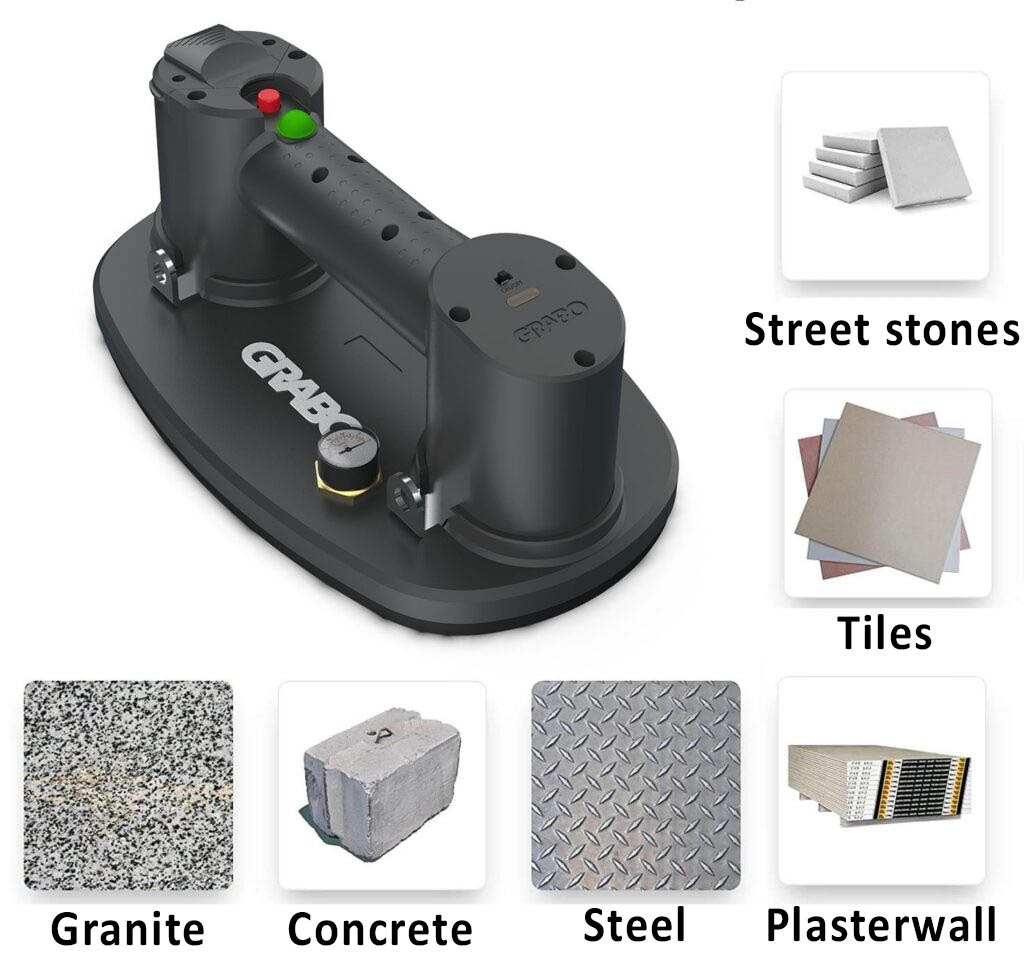 The vacuum pump can be switched off during lifting. Keeping the vacuum pump activated while the material is being carried ensures maximum safety: even if the material has an air leak due to a foreign body or dirt, the continuous operation of the vacuum pump maintains a constant vacuum.
A rubber-protected manometer allows the user to monitor the level of vacuum pressure according to the lifting capacity of the material.
When you are done moving the object, press the red button to release the vacuum.
The tool is powered by a 14.8 volt 2600 mAh removable lithium ion battery. It takes two hours to fully charge the battery. With a full charge, the battery can withstand 900 cycles or 1.5 hours of continuous operation, and the battery life in standby mode is 30 days.
The GRABO Plus tool is equipped with four lifting hooks placed on both sides of the vacuum lifter handle. They are convenient when the tool is used with additional handles or straps. Many such accessories are available separately.
The tool is essential for professionals in the construction industry. Many builders and construction professionals quickly adapt to GRABO Plus. The reason is simple: they not only improve efficiency, but also save labour costs.
More importantly, the tool's safety and accessibility makes you want to get more GRABO tools.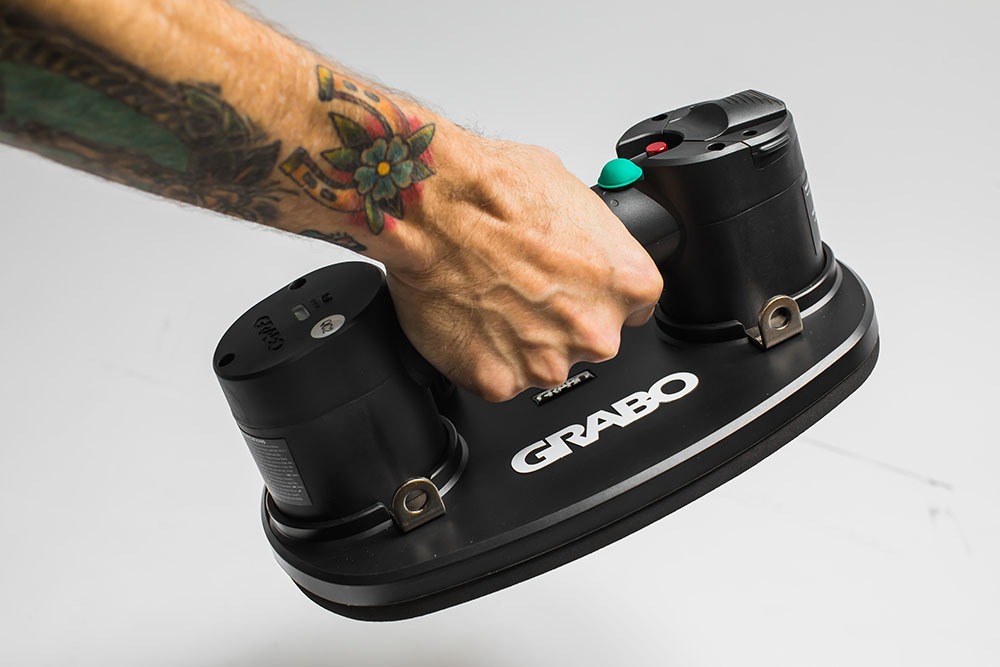 | | |
| --- | --- |
| Model | Grabo Plus |
| Battery | 14.8VDC 2600mAh Li-ion |
| Power | 16W |
| Charger specifications | 100-240VAC 50/60Hz |
| Battery charging time | ~2 hours |
| Continuous working time (fully charged) | 1.5 hours |
| Operating cycles (fully charged) | 900 ON-OFF 10 second cycles |
| Battery standby period (fully charged) | 30 days |
| Pump life | 100000+ON-OFF cycles / 800+ continuous hours |
| Air movement | 0.7cfm (20 L/min) |
| Maximum vacuum | 11.6Psi (0.8 Bar, 80 kPa) |
| Maximum lifting weight | 375Lbs (170 kg) |
| L x W x H | 12.1 x 7.37 x 4.91" ( 297 x 181 x 121 mm ) |
| Weight with battery | 3.3Lbs (1.6 kg) |
| Operating temperature | 32°F~140°F ( 0°~60 °C ) |
| Surface application | 3 mm, arch less than 5° |